Why sector 132 Noida is best for commercial property investment?
Nov 30, 2019
Shweta Yadav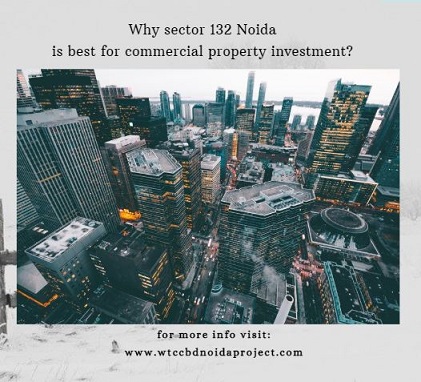 Noida has been one of the prominent hubs for commercial property investments around the NCR in recent years. The balanced development in the residential and commercial real estate fronts, that the city has witnessed over the last few years make it an ideal place to buy a commercial property. The returns of investing in office space in Noida are high indeed. Given that the value of property is consistently rising in this city, it would be a wise decision to buy a new property here. Particularly, Sector 132 in Noida is one of the most sought places, where business firms and entrepreneurs look out for commercial spaces. This zone has already attracted hundreds of companies. Besides, startups are also choosing Sector 132 in Noida, as the area has a number of locational advantages. The seamless approach to the rest of the NCR makes it an ideal place to grow your business.
The prices of retail space in Noida is consistently rising over the years, due to the high demand. Evidently, investors are purchasing these properties for commercial purposes. If you rent or lease off these properties in the coming years, you can benefit from the high returns. With the WTC (World Trade Centre), Noida CBD being located in this region, property valuation has got a boost. The prices are expected to further escalate over the next few months. Considering the investment potential in this region, it would be wise to get a new property here.
Commercial space is available across all the desired categories and configurations in the new projects, that have been launched in Sector 132 in recent years. Business firms may be looking for restaurants, workspaces, food courts, entertainment zones and retail spaces in these projects. Some of the commercial projects come with all these categories of property, and you can choose the one you need.
One of the prime reasons for the high demand for commercial space in Sector 132 in Noida is its proximity to the prominent residential zones. When you own a new property in this area, you can easily tap the potential customer base around. Over the years, a large number of families, mostly in the high-middle class or upper income groups have moved to the residential projects around Noida. With a good connectivity to the commercial zones in Sector 132, they can easily reach these places. This enhances the demand for quality commercial spaces, including office and retail spaces in this region.
Families residing in the residential projects located in Sectors 134, 133 and 129 can easily access the commercial zones in this area. Besides, the commercial projects are located 2 Km. from Sector 93-A, Infoedge and SIFY. Companies like Genpact, Accenture, TCS and KPMG are located close by. Some of the other important companies having their offices close to Sector 132 include HCL, Sapient, Jaypee and Dell. One can get across to the Noida International Airport within an hour from the commercial zones in this sector. Considering these benefits, buying a commercial property in Sector 132 Noida would be a good decision. This is the right time to make the purchase